How do you choose the best pressure washer when so many options are available? Our top pressure washer short guide should assist you in selecting the appropriate model according to PSI ratings, engines, and other features.
Power washers and pressure washers are similar in many ways. Even their PSI/GPM ratings are comparable. One significant distinction is that pressure washers lack a heating element.
Oils and grease may usually be removed more easily with power washers. However, they cost more and need more upkeep. As a result, most users often opt for a pressure washer and use industrial cleaners to get rid of stubborn stains.
Both power washers and pressure washers have two ratings. One is for PSI, while the other is for GPM. The actual water pressure is expressed in PSI. Although it receives the greatest attention, both are important.
When cleaning, more PSI produces more force, and the tip determines the pressure. The Red tip will typically exert the most pressure on you. The pressure decreases as you use broader and wider angle tips to spread the spray over a larger area.
Meanwhile, GPM refers to the amount of optimum water flow. The amount of water that hits the surface while you clean will depend more or less on the GPM. Cleaning off dirt and grime more efficiently is made possible by more water reaching the surface.
Simpson SuperPro Pressure Washer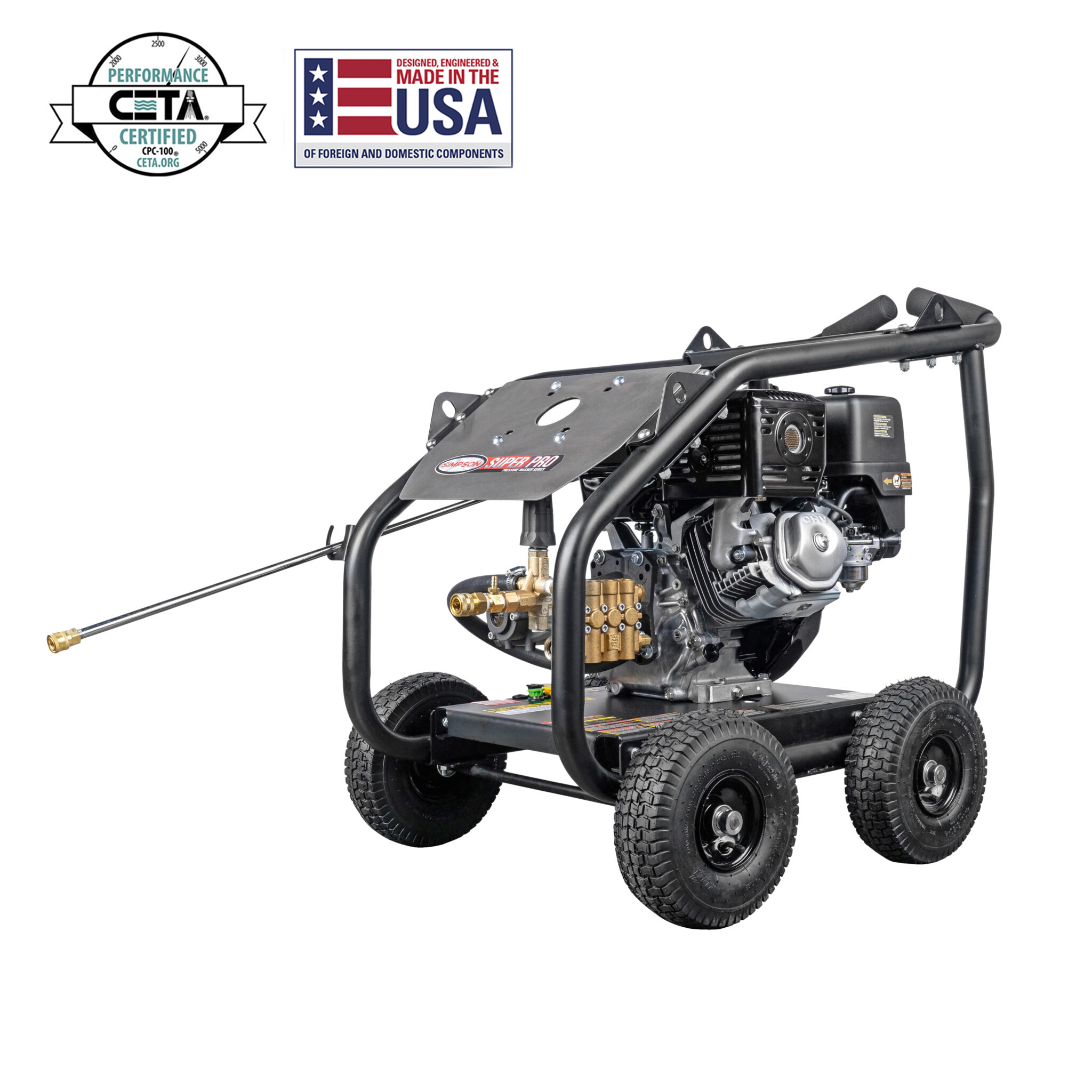 In our opinion, the Simpson SuperPro series is the greatest gas pressure washer. We adore the style, the robust roll cage frame, and the fact that they are produced in the USA with components from around the world.
It's smoother to move than conventional 2-wheel versions, making it ideal for lifting and carrying from trailers or rolling it into and out of your workplace. Although there are also models with Kohler and CRX engines, we like those with Honda engines.
The range of pressure ratings is 3000 to 7000 PSI, while the range of flow ratings is 2.5 to 8.0 GPM. If you operate with pressure washers regularly, you'll undoubtedly find a PSI/GPM ratio that suits your needs.
The Greenworks GPW3000 is the most forceful electric pressure washer, with a massive 3000 PSI and 2.0 GPM. It gains our vote as the greatest electrified pressure washer this year, adding to its long list of honors.
Most electric models advertise PSI max to give the impression that you are receiving higher performance than you actually are. Greenworks employs PWMA-certified ratings instead of participating in that game.
It utilizes a brushless motor and a process that Greenworks refers to as "JettFlow" technology to outperform rivals in terms of PSI.
However, class-leading performance is not inexpensive. It's pricey for a rechargeable pressure washer at around $400. But this is the most effective cleaning without a gasoline engine for the motor.